Resonator Ukulele in more detail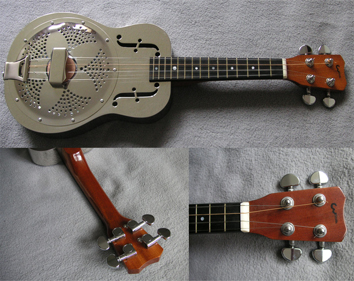 The resonator ukulele body is made from a shaped 1mm thick, 50mm wide strip sandwiched between two 1mm plates. The back is slightly bowled for added strength The seams are butt soldered together. There is a cone support structure soldered to the underside of the front plate.
The neck is made from a wood called Utiel or Utile. It looks exactly like mahogany which I cannot use now as the importation of it into the UK is illegal. It also works and feels like mahogany. The fretboard is made from ebony with position dots at frets 3, 5, 7, 10, 12 and 15. The 12th fret dot is larger than the rest. There are also side dots at these positions, with two at the 12th.
The neck is fixed to a through the body neck stick that goes through the body with an accurately tight lateral fit and is fixed in position by the strap button screw. The resonator cone support is in contact with the neck stick which improves the tone.
The tailpiece is made from brass and then nickel plated.
I fit nylon strings. ( D'Addario J65's)
The resonator cone itself is made by me. I have made a pattern for it that is attached to a motor. The aluminium alloy is heat treated and then clamped to the pattern. The aluminium sheet is then spun and worked into the pattern. It is fitted inside the instrument on four support blocks and a support ring, sitting on the back plate. The aluminium alloy sheet used for the ukulele is a lighter gauge than for the mandolin as the four nylon string are much lighter in tension and have less vibration energy.
The pick up I fit to the ukulele is my own make. I fit two.One directly to the cone, close to the edge and slightly to the treble side and the other screwed directly under the biscuit. Both pickups are wired to the one output jack. I can fit a pick-up of your choice.There may be an extra charge depending on the cost of the pick-up chosen.